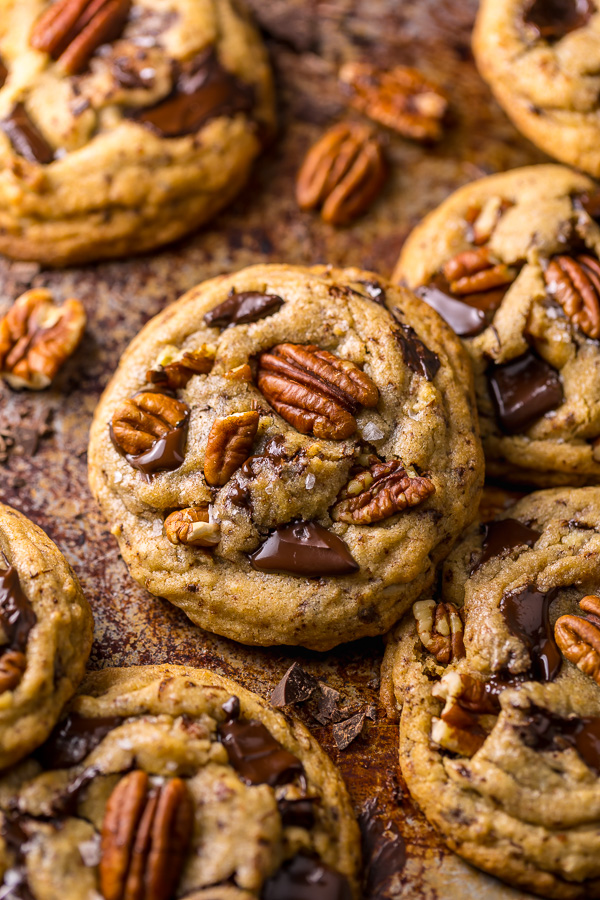 INGREDIENTS 1 cup raw pecans 2 tablespoons real maple syrup flakey sea salt 2 sticks (1 cup) salted butter, at room temperature 3/4 cup dark brown sugar 1/3 cup granulated sugar 2 eggs 1 tablespoon vanilla extract 2 1/4 cups all-purpose flour 1 teaspoon baking soda 2 cups semi-sweet chocolate chips coarse sugar, for topping (optional)  
DIRECTIONS
Preheat the oven to 350 degrees F. Line a baking sheet with parchment paper.
To a skillet set over medium heat, add the pecans and maple syrup. Cook, stirring often, until the pecans are toasted and golden, about 5-8 minutes. Remove the pecans from the pan to a cutting board. Sprinkle with flakey salt. Let cool and then roughly chop.
Add 1 stick butter to a skillet set over medium heat. Allow the butter to brown lightly until it smells toasted, about 2-3 minutes. Stir often. Remove from the heat and let cool.
In a large mixing bowl, beat together the remaining 1 stick butter, cooled browned butter, brown sugar and sugar until combined. Beat in the eggs and vanilla, beat until creamy. Add the flour, and baking soda, beating until combined. Stir in the the chocolate chips and chopped pecans.
Roll the dough into tablespoon size balls and place 3 inches apart on the prepared baking sheet. Transfer to the oven and bake for 8-10 minutes or until the cookies are just beginning to set on the edges, but still doughy in the center. Remove from the oven and let the cookies cool 5 minutes on the baking sheet. They will continue to cook slightly as they sit on the baking sheet. Sprinkle with coarse sugar, if desired. Eat warm (highly recommended) or let cool and store in an airtight container for up to 4 days.